LEARN FROM THE BEST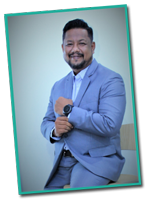 Khairul Anuar Safiullah has over 17 years' experience in Banking, specializing in SME & Commercial Banking where he markets banking products, analyses creditworthiness, proposes loans facilities, as well as manage relationships with customers to drive utilization and drive profitability. Khairul is also well experienced in Islamic Banking, and is involved in training of Islamic Banking Products, Training Needs Analysis, Training Content Development and Delivery as well as Product Management. Khairul is also heavily involved in delivering eUsahawan Trainings in collaboration with Malaysian Digital Economic Corporation where he has trained over 1000 participants.
His qualifications are as follows:
Degree in Business Administration with concentration in Management from the University of Memphis, TN, USA

Certified NLP Practitioner

Certified Time Line Therapy Practitioner

Currently pursuing Certified NLP Coaching Certification

Certified Trainer under Pembangunan Sumber Manusia Berhad

Certificate in Islamic Law from Universiti Islam Antarabangsa Malaysia

OMEGA Credit Evaluation and Assessment Skills
Khairul is a specialist in Credit Sales and Marketing where he has gained valuable know how in selling skills, managing customer relationships, effective writing and communication skills, handling difficult customers and negotiation skills. These were translated to successful portfolio management to drive profitability and value add to the customer experience.


With an Islamic Bank, Khairul was tasked to grow the Islamic assets in comparison to Total Assets of the Bank utilizing sales force whose KPI did not stress growth on Islamic Assets. He developed an Engagement Unit capable of delivering high impact trainings to develop proper understanding on Islamic Banking Principles via a proper Training Needs Analysis, developed contents and materials for training and delivered the trainings nationwide to enhance acceptance of Islamic Banking Products by the sales force. This required selling to stakeholders to obtain buy in of the programme and providing feedback to Product Management for product enhancement purposes. To further aid acceptance, a proper feedback platform was developed to manage and address queries, issues raised and audit findings.
Under the eUsahawan banner, Khairul has trained over 1000 participants nationwide. This has further developed his skills in training delivery as well as managing training events, dealing with respective NGOs, Governmental Special Vehicles and Government appointed bodies in developing an online marketing community capable of generating sustainable income.
Khairul is able to conduct trainings in Bahasa Malaysia and English effectively. His key value, driven by passion has enabled delivery of high impact, fun filled, exciting trainings to ensure high take home rates and understanding for the participants.
VENUE DETAILS
Furama Hotel Kuala Lumpur
136, Jalan Changkat Thambi Dollah
55100 Kuala Lumpur
- 55100
Phone :(603) 2788 8888
Fax :(603) 2788 8889
IPA TRAINING IS REGISTERED WITH

CONTACT US
Juliany, 
O - 03 2283 6109,
M - 019 3134436
juliany@ipa.com.my 

Michelle, 
O - 03 2283 6100, 
M - 019 363 7822
michelle@ipa.com.my 

For Customised In-House Training
Yvonne,
O - 03 2283 6101, 
M - 012 2011247,
F - 03 2283 6108 
yvonne@ipa.com.my 

ADDRESS 
A-28-5, 28th Floor, 
Menara UOA Bangsar, 
No.5, Jalan Bangsar Utama 1, 
59000 Kuala Lumpur
www.ipa.com.my