LEARN FROM THE BEST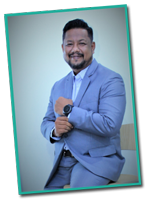 Khairul Anuar Safiullah
is an established trainer with 17 years' experience in managing teams, high net worth clients, and frontline experience. He is an effective trainer with a passion for fully experiential learnings. He exercises competence in leadership, mindset change, sales, communication, presentation skills, customer service, teambuilding, creativity, problem solving, personal effectiveness and image management.
He has provided training and consultancy to business professionals, corporations and government agencies. Partial list of clients includes Schmid+Clements, UEM Group, Sinokor (M) SB and Delphi Packard (M) SB. His spirited and innovative approach to training is filled with ideas and skills that not only makes learning fun and exciting, but also transforms human differences into core assets.
Khairul believes in a fully experiential learning experience. His trainings are conducted through lectures, games, activities, videos, and use of training tools to garner a deeper understanding and retention on knowledge and utilizes the participant's Visual, Auditory and Kinesthetic senses.
Khairul's qualifications are as follows:
1. Certified NLP™ Coach by ABNLP
2. Certified NLP™ Practitioner by ABNLP
3. Certified Create Your Success© Coach
4. Degree in Business Administration with concentration in Management from the University of Memphis, TN, USA
5. Certified Trainer under Pembangunan Sumber Manusia Berhad
6. Certificate in Islamic Law from Universiti Islam Antarabangsa Malaysia
7. OMEGA Credit Evaluation and Assessment Skills
Coupled with 17 years of banking experience, Khairul has developed a sound frame of reference with regards to the industrial needs and requirements. Khairul Anuar Safiullah specializes in SME & Commercial Banking where he sells and markets banking products, analyzes creditworthiness, proposes loans facilities, as well as manage relationships with customers to drive utilization and drive profitability. Khairul is also well experienced in Islamic Banking, and is involved in training of Islamic Banking Products, Training Needs Analysis, Training Content Development and Delivery as well as Product Management.
Under the eUsahawan banner, Khairul has trained over 1000 participants nationwide. This has further developed his skills in training delivery as well as managing training events, dealing with respective NGOs, Governmental Special Vehicles and Government appointed bodies in developing an online marketing community capable of generating sustainable income.
Khairul is able to conduct trainings in Bahasa Malaysia and English effectively. His key value, #drivenbypassion has enabled delivery of high impact, fun filled, exciting trainings to ensure high take home rates and understanding for the participants.
VENUE DETAILS
Vistana Kuala Lumpur
9 Jalan Lumut Off Jalan Ipoh
50400 Kuala Lumpur

Phone :03 4042 8000

IPA TRAINING IS REGISTERED WITH

CONTACT US
Juliany, 
O - 03 2283 6109,
M - 019 3134436
juliany@ipa.com.my 

Michelle, 
O - 03 2283 6100, 
M - 019 363 7822
michelle@ipa.com.my 

For Customised In-House Training
Yvonne,
O - 03 2283 6101, 
M - 012 2011247,
F - 03 2283 6108 
yvonne@ipa.com.my 

ADDRESS 
A-28-5, 28th Floor, 
Menara UOA Bangsar, 
No.5, Jalan Bangsar Utama 1, 
59000 Kuala Lumpur
www.ipa.com.my