LEARN FROM THE BEST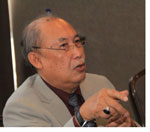 PROF. DATO' SALLEH BUANG formerly served as a Federal Counsel in the Attorney-General's Chambers, Kuala Lumpur (1970-75), before he left for private practice, the corporate sector and finally the academia. He was the Deputy Dean, Kulliyyah of Laws, International Islamic University until 1990, when he went into full-time consulting.
Over the last 3 decades, he had conducted numerous workshops, seminars, corporate briefings and courses covering employment law, land law, housing development, strata law, construction law, joint ventures and planning law. Author of more than 25 books and monographs on a wide range of legal topics, he now writes for his weekly column in New Straits Times and Utusan Malaysia.
Until 2013, he was a Visiting Professor at the Faculty of Geoinformation and Real Estate, UTM, Johor. He is currently a Member of the Board of Trustees of the Kuala Lumpur Foundation to Criminalize War (KLFCW).
VENUE DETAILS
Seri Pacific Hotel
Jalan Putra
50350 Kuala Lumpur

Phone :03 4042 5555

IPA TRAINING IS REGISTERED WITH

CONTACT US
Juliany, 
O - 03 2283 6109,
M - 019 3134436
juliany@ipa.com.my 

Michelle, 
O - 03 2283 6100, 
M - 019 363 7822
michelle@ipa.com.my 

For Customised In-House Training
Yvonne,
O - 03 2283 6101, 
M - 012 2011247,
F - 03 2283 6108 
yvonne@ipa.com.my 

ADDRESS 
A-28-5, 28th Floor, 
Menara UOA Bangsar, 
No.5, Jalan Bangsar Utama 1, 
59000 Kuala Lumpur
www.ipa.com.my