FOCUSING ON
Fundamentals of construction contracts

MoU, Letters of Intent, Subject to Contract, If Contracts

DONE DEALS – Renegotiating contracts

LOPSIDED CONTRACTS – Unusual modes of payment
CIPAA 2012 – ensuring payments to Contractors

Construction disputes – mediation, arbitration, adjudication

Specialized Construction Courts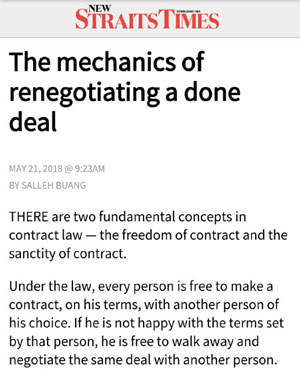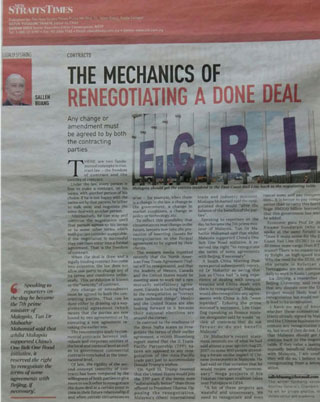 OBJECTIVE
Prior to GE14 (on May 9, 2018), Malaysia had entered into several mega construction projects with various foreign parties, such as (i) the RM55bil East Coast Rail Link (ECRL), (ii) the RM 60bil KL-Singapore high speed rail (HSR), (iii) the RM12.9bil Gemas-JB rail double tracking, (iv) the RM29bil Pan Borneo Highway, and (v) the RM45bil MRT 3 (Circle Line) in the Klang Valley area.
The ECRL project was awarded to China Communications Construction Company Ltd (CCCC), whilst the Gemas-JB project was awarded to China Railway Construction Corp, China Railway Engineering Corp and CCCC.
In the run-up to GE14, the Pakatan Harapan coalition had stated in their manifesto that they will carry out a "comprehensive review" of all mega projects that have been awarded to foreign parties. By 31st May, 2018, the decision was made to scrap the HSR and the MRT3 projects, whilst the other projects would be "renegotiated" with the relevant contracting parties.
On June 6, 2018, Finance Minister Lim Guan Eng revealed the existence of another RM9.4bil project where the agreed mode of payment was based on timeline milestones and not on progress of work done. As a result, RM8.3bil (representing 88% of the projects' total value) had been paid out to the Contractor (China Petroleum Pipeline Bureau, CPPB) although only 13% work had been completed. The contract was negotiated by the Prime Minister's Department, without involving Treasury officials.
What happened in some of these projects is that standard norms and best practices in contract negotiation have not been adhered to, resulting in lopsided contracts, followed up by poor contract administration and weak financial management. At the same time, they reveal the new trend of "renegotiating" legally binding contracts between the contracting parties, reminding industry players of the need to have such "provisions for renegotiation" clearly spelt out in future construction contracts to meet unexpected or fundamentally changed circumstances.
HERE IS WHAT YOU WILL LEARN
| | |
| --- | --- |
| 9:00 | SESSION 1: GETTING DOWN TO BUSINESS |
The governing law

Standard term contracts

Elements of a binding and enforceable contract

Formation of a construction
contract - invitation to treat, offer and acceptance, post acceptance, before starting work on site, work program binding

Principle of "entire contract" – express and implied terms

The Contract Documents - Articles of Agreement, terms and conditions, drawings and specifications, hierarchy of contract documents.

Done Deals – can existing contracts be renegotiated? (The ECRL / SSER pipeline project)

Unilateral termination – duty to pay compensation? (Malaysia – Singapore HSR project)
| | |
| --- | --- |
| 10:45 | SESSION 2: KNOW YOUR RIGHTS AND OBLIGATIONS |
Contractors' Duties – complete the works, due diligence, fitness of purpose, skill and judgment, warn Employer of obvious design defects;

Contractors' Rights – right to receive payment, when payment is due, effect of late payment or non-payment, non-interference, timely instructions, timely site possession.

Employers' Duties – pay Contractor on time (failure makes time to be at large), give site possession on time (failure can make time to be at large).

Employers' Rights – right to have work completed on time, remedial works during DLP, right to terminate if contractors default.

Lopsided contracts – can payment be based on time milestones, not work progress?
| | |
| --- | --- |
| 2:00 | SESSION 3: KNOW YOUR RIGHTS AND OBLIGATIONS (continued) |
Contract Administrators - duty to act fairly towards Employer and Contractor, duty of diligence, skill and care.

Subcontractors - duty to complete work for Main Contractor, duty to indemnify, liability in tort towards

Employer, right to receive payment on time.

The "Works" - Is it defined in the contract document?

Variations - Is it provided in the contract? Limits? Bona fide?
| | |
| --- | --- |
| 3:45 | SESSION 4: BREACH, REMEDIES, DISPUTE RESOLUTION |
Effect of breach – innocent party's response, duty to mitigate loss, damages and penalties

Claims - in contract, in quantum meruit, in tort, ex gratia payments; ensuring success and avoiding failure

Payment to contractors and subcontractors - Construction Industry Payment and Adjudication Act 2012

Resolving construction disputes - litigation, ADR, Adjudication, and special Construction Courts.

Summing up. Q &A.
WHO SHOULD ATTEND
Property Managers

Marketing Managers

Builders

Land Owners

Legal Advisors

Investment Advisers & Planning Managers

Project Managers

Valuers

Property Consultants

Land Administration Managers

Bankers

Tax Managers

Estate Agents

Surveyors

Property Developers

Lawyers and Paralegals

Financiers

Contractor

METHODOLOGY
Interactive Lectures, Discussions and Practical Case Studies on all relevant areas to ensure participants grasp clearly issues presented.