Learn from the Best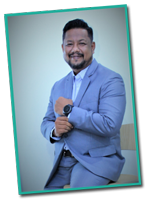 Khairul Anuar Safiullah is an established trainer with over 17 years' experience in managing high net worth clients, and frontline experience.
Khairul has many years' experience in Banking. There, Khairul developed a sound frame of reference with regards to the industrial needs and requirements. Khairul Anuar Safiullah specializes in SME & Commercial Banking where he sells and markets banking products, analyzes creditworthiness, proposes loans facilities, as well as manage relationships with customers to drive utilization and drive profitability. Khairul is also well experienced in Islamic Banking, and is involved in training of Islamic Banking Products, Training Needs Analysis, Training Content Development and Delivery as well as Product Management.
Realizing his passion for human development, Khairul embarked on a journey as a coach and trainer.
Under the eUsahawan banner, Khairul has trained over 1000 participants nationwide. This has further developed his skills in training delivery as well as managing training events, dealing with respective NGOs, Governmental Special Vehicles and Government appointed bodies in developing an online marketing community capable of generating sustainable income.
Khairul now focuses on soft skills. He delivers a unique brand in presentation, leadership, communications, sales and other soft skills trainings combining NLP elements and practical industry experiences.
Khairul believes in a fully experiential learning experience. This method garners a deeper understanding and retention on knowledge and utilizes the participant's Visual, Auditory and Kinesthetic senses. It also builds muscle memory that aids practical application.
Khairul's qualifications are as follows:
Certified NLP™ Coach by ABNLP

Certified NLP™ Practitioner by ABNLP

Certified Create Your Success© Coach

Certified Language and Behavior Profile Practitioner

Degree in Business Administration with concentration in Management from the University of Memphis, TN, USA

Certified Trainer under Pembangunan Sumber Manusia Berhad

Certificate in Islamic Law from Universiti Islam Antarabangsa Malaysia

OMEGA Credit Evaluation and Assessment Skills

Aikido Black Belt (Shodan)

Triathlete
Khairul is a firm believer that we, as humans, are able to develop our potential to the maximum, given the right guidance.