Learn from the Best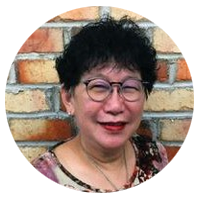 JULIA LAI ABDULLAH

Certified Master Trainer (Institute of New York Master Trainers), USA

Certified PSMB Trainer (Malaysia)

Certified Prior Learning Assessor (UK)

Certified Experiential Activity-Based Trainer, USA

Certified Workplace Big Five Profiling, USA

Certified (ESOL) English for Speakers of Other Languages Trainer, UK

Certified OJT Trainer (NPC) Singapore

Certified Administrative Professional (CAP - IAAP, USA)

IAM Diploma (UK)
LCCI Sales & Selling Management Diploma (UK)

Bachelor of Arts in Humanities, Australia
Julia Lai Abdullah is an experienced development and training specialist for 25 years. She has consulted with organizations in Beijing, Shanghai, Bangkok, and Malaysia on core functional soft skills to upscale employees' performance and productivity. Julia has the confidence to influence and spearhead learning to every participant in her class. Her excellent communication skill, easy-going and motivational style has helped to energize and motivate her participants to effectively participate and learn. Her passionate belief that everyone can succeed has directed her focus to assist participants to surpass their potential, and have coached thousands of executives and teams to achieve effective leadership, greater productivity, impactful communication, exceptional service, teamwork, and continuous improvement.
Julia's knowledge, tasks and soft management skills were developed over ten years in banking and finance, two years in retailing, three years in manufacturing, two years in diplomacy, and four years in adult education – managing various operating areas – learning and applying the skills it takes to run world-class driven organizations. With her unique background and expertise, Julia would be able to help your organization to create a culture of efficiency, effectiveness and innovation.
Julia's popular courses include Advanced Innovation Strategy for Leaders, Smart Thinker & Problem Solver, Creativity and Innovation at the Verge, A Leader in Leadership, Deadliest Time Warrior, Professional Patient Care, Team Alignment: Customer-Centric Focus, Customer Service Mindset, Customers Management Strategy, Business English Communication Level 1 to 3, POWER-UP! Interpersonal Skills, People Performance Management, Emotional Intelligence In Practice, Mastering the 8-Star Competencies of a Manager, Dynamic & Achievable Performance Leadership, Rock Your Presentation, WTR: Who is the Ringmaster: Transforming Leaders into Game Changers, The 'Brix' Series (MTa): Leadership, Teamwork, Problem Solving, Business Priorities, Personal Excellence through Experiential Learning.

Venue Details
Melia Kuala Lumpur
16 Jalan Imbi,
Phone : 03 2785 2828

https://www.melia.com/en/hotels /malaysia/kuala-lumpur/melia-kuala-lumpur
Contact us
ADDRESS 
A-28-5, 28th Floor, Menara UOA Bangsar, 
No.5, Jalan Bangsar Utama 1, 
59000 Kuala Lumpur
www.ipa.com.my