9 FEATURES TO BECOME MICROSOFT EXCEL EXPERT
25-26 Apr, 2022, Remote Online Training - Public
IPA Training is Registered with

Learn from the Best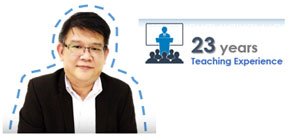 Kelvin Ng Choo Kent is a highly experienced digital arts instructor and master trainer with more than 17 years ofexperience in the Office Automation Consultation, Graphic Design, Animation and Print Production arena. He is a graduate of Malaysian Institute of Art (MIA) and holds the distinction of being certified as Adobe Certified Expert (ACE), Microsoft Office 2016 Master Specialist MCP & MCT, Certified Practitioner of Neuro-Semantics, Certified Practitioner of Neuro-Linguistic Programming & Certified Practitioner of Hypnosis & Time-Lines.


Venue Details
Remote Online Training - Public


Contact us
ADDRESS 
A-28-5, 28th Floor, Menara UOA Bangsar, 
No.5, Jalan Bangsar Utama 1, 
59000 Kuala Lumpur
www.ipa.com.my
FOCUSING ON
Understanding Data in Microsoft Excel
Discover the Daily used Functions at Work

Check your Reports in seconds
Prepare Calculations without Writing any Formula

Data Management

Analyzing Data using PivotTable & PivotChart

Most Popular: Logical and Lookup Functions

Analyze Data using What-IF-Analysis

Automate process using Macro Recording
COURSE OEVRVIEW
Microsoft Excel is a software for storing numerical data and analyzing them. It is one of the most flexible and commonly used applications in Office. Looking for a few cool tricks to impress your boss the next time he calls you in to do an urgent Excel project? The tricks in this course will ensure the data in your chart is accurate to avoid any costly screw-ups. You'll also save a ton of time – perhaps even a few hours. You might even be able to leave the office on time. For one way or the other, we all work with numbers. When you want to record, analysis and save such numeric data, you will become a Superhero in Microsoft Excel in your organization.
AFTER ATTENDING THIS COURSE YOU WILL RETURN TO YOUR JOB…
Working with Excel confidently.

Preventing common mistake in Microsoft Excel Reporting.

Preparing reports with time given & meeting all the dateline given.
WHO SHOULD ATTEND
Personnel who use Microsoft Excel to analyse and prepare management reports, especially Administrative, Operational and Middle Management Staff.
METHODOLOGY
Guided Learning, group-paced, hands-on classroom training with real life examples for business applications.

Challenging exercises are set based on practical applications for typical organizational functions such as HR, Admin, Production, Sales etc.
DAY 1
9:00

MUST KNOW ABOUT MICROSOFT EXCEL

Start with the Essential Knowledge
- Excel Data Type
- How does this information affect us?
- A Quick Fix
- Understanding Microsoft Excel Date
- Quick Questions

Understanding Excel Number Formatting
- Date Format
- Number Format
- Custom Number Formatting

Writing Formula using Excel References
- Relative Reference
- Absolute Reference
- Mixed References

Using Name as Reference (Name Range)


10:45

DAILY USED FORMULAS AND FUNCTIONS

Essential Arithmetic Formula and Functions

COUNT Functions
- COUNT Function
- COUNTA Function (Count All)
- COUNTBLANK Function
- COUNTIF Function

DATE Functions
- Insert Excel Date
- Countdown between 2 date
- Find out the completion date based on number of days
- Find out the duration between two dates
- Adjust an existing date to a future date by number of months

TIME Duration Calculations
- Normal punch card calculation
- How to deduct an hour from the duration between Time in and Time out
- Calculate the consultation Fee based on Hourly Rate

Data Cleansing using Text Functions
- Using "&" symbol or Concatenate Function
- Using LEFT and RIGHT Functions to create a new Information
- Convert the text to Capital Letters
- Using Function to Split information to multiple columns
- Change all Uppercase text to Sentence case
- Removing additional spaces within a Text

2:00

REPORT CHECKING FEATURES

Conditional Formatting
- Find out which month achieved the highest sales
- Find out the months that achieved the given target
- Highlight the rows of data that meet the target

Data Validation
- Circle the cell that does not meet the criteria given.
- Data Entry control using Data Validation feature
- Build a drop-down list using Data Validation List

Formula Auditing
- Trace Precedents
- Trace Dependents




COMMON DAILY COPY AND PASTE OPERATION

Paste Operation

Paste Transpose

Paste Column Width

DAY 2
9:00

DATABASE MANAGEMENT

Sorting Data
- Sorting data in ascending or descending order
- Sorting data according to month or day order
- Sorting data using our own priority order
- Perform multiple level of sorting

Using Subtotal to generate Quick Summary

Applying common AutoFilter
- Applying AutoFilter to show the records we want.

Using Custom Filter to search for data
- Use Wildcard to filter the records

Advance Filter
- Setting up before using the Advance Filter
- Filter with Multiple sets of Criteria and paste it in another location
10:45

DATABASE ANALYSIS & REPORTING

A quick interactive report/summary using Database Functions

Generate Report using PivotTable
- Understand the PivotTable Elements
- Field List and Layout
- Value Field Settings
- Show Value as…
- Grouping Data
- Filtering report using Slicer

Transform a PivotTable Report to PivotChart
- Insert a PivotChart as easy as 3 steps
- Impress your boss with a beautiful and interactive PivotChart




2:00

ADVANCED POPULAR FUNCTIONS

Applying Logical Functions
- Logical Function (IF, AND & OR)
- Using Logical Function to Suppress Error from appearing in the answer

Lookup Functions
DATA ANALYSIS USING WHAT-IF

Using Goal Seek to achieve the goal by changing one variable.
- Solution One: Extend the loan period
- Solution Two: Reduce the loan amount

Data Table
- Calculate the Break-even point using One Input Data Table
- Find out the best offer for bulk purchase

Scenario
- Adjust our Costing to meet the Customer Budget


AUTOMATE YOUR OPERATION USING MACRO


Macro Recording

Assigning Macro to Button