Microsoft Excel: Analyzing Data: PivotTable
25 Feb, 2022, Remote Online Training - Public
IPA Training is Registered with

Learn from the Best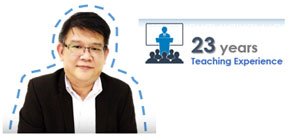 Kelvin Ng Choo Kent is a highly experienced digital arts instructor and master trainer with more than 17 years ofexperience in the Office Automation Consultation, Graphic Design, Animation and Print Production arena. He is a graduate of Malaysian Institute of Art (MIA) and holds the distinction of being certified as Adobe Certified Expert (ACE), Microsoft Office 2016 Master Specialist MCP & MCT, Certified Practitioner of Neuro-Semantics, Certified Practitioner of Neuro-Linguistic Programming & Certified Practitioner of Hypnosis & Time-Lines.


Venue Details
Remote Online Training - Public


Contact us
ADDRESS 
A-28-5, 28th Floor, Menara UOA Bangsar, 
No.5, Jalan Bangsar Utama 1, 
59000 Kuala Lumpur
www.ipa.com.my
FOCUSING ON
OBJECTIVE

A PivotTable is a powerful tool to calculate, summarize, and analyze data that lets you see comparisons, patterns, and trends of a large amounts of data. You can use a PivotTable to analyze numerical data in detail and answer unanticipated questions about your data. Moving rows to columns or columns to rows (or "pivoting") to see different summaries of the source data. Both PivotTables and PivotCharts enable you to make informed decisions about critical data in your company.
AFTER ATTENDING THIS COURSE YOU WILL RETURN TO YOUR JOB…
Understanding Excel Data thoroughly & Preventing common mistake in Excel Reports.

Managing & Analyzing Database/Excel List effectively.

Having the ability to connect data from another source/file.

Introduction to Macro Recording to automate repetitive task.

Managing Worksheet & File Protection.
WHO SHOULD ATTEND
Personnel who use Microsoft Excel to analyse and prepare management reports, especially Administrative, Operational and Middle Management Staff.

COURSE REQUIREMENTS

Participants should be able to use a PC at the beginner level

Basic knowledge and functionality of Microsoft Excel Microsoft Office 2013 and above
METHODOLOGY
Guided Learning, group-paced, hands-on classroom training with real life examples for business applications.

Challenging exercises are set based on practical applications for typical organizational functions such as HR, Admin, Production, Sales etc.
COURSE CONTENT
9:00

PivotTable

Get to know a PivotTable

The Best Practice using a database for PivotTable

Creating PivotTable

Database Pre-requisite for preparing a PivotTable Report

Designing a PivotTable

Adding Elements to the Report

Creating a Report Filter
- Use Table Field as Report Filter
- Use the Report Filter
- Reset the Filter

Use Slicers to Filter Report
- What is Slicers?
- Remove Slicer

Update the Data Source
- Changes Data Sources

Create a dynamic Range for the Data Table
10.45

Customizing a PivotTable

Format a PivotTable
- Use PivotTable Style
- Number and Text Format
- Explore the PivotTable Options
- Use the Value Field Settings

Subtotals

Show Value As

PivotTable Print Options

Grand Totals

Report Layout
2:00

Grouping, Sorting and Filtering

Grouping Pivot Fields
- Dates
- Number Fields
- Text

Ungrouping

Sort& Filtering the PivotTable
Use "Fields, Item and Sets"

Creating Calculated Field

Creating Calculated Item

Edit and Delete Calculated Field or Item
| | |
| --- | --- |
| | Pivot Charts |
| | |
| --- | --- |
| | PivotTable Wizards |