Microsoft Excel The Excel Secrets You NEED to Know
14-15 Jul, 2022, Remote Online Training - Public
IPA Training is Registered with

Learn from the Best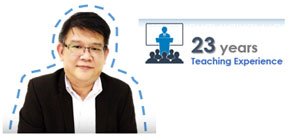 Kelvin Ng Choo Kent is a highly experienced digital arts instructor and master trainer with more than 17 years ofexperience in the Office Automation Consultation, Graphic Design, Animation and Print Production arena. He is a graduate of Malaysian Institute of Art (MIA) and holds the distinction of being certified as Adobe Certified Expert (ACE), Microsoft Office 2016 Master Specialist MCP & MCT, Certified Practitioner of Neuro-Semantics, Certified Practitioner of Neuro-Linguistic Programming & Certified Practitioner of Hypnosis & Time-Lines.


Venue Details
Remote Online Training - Public


Contact us
ADDRESS 
A-28-5, 28th Floor, Menara UOA Bangsar, 
No.5, Jalan Bangsar Utama 1, 
59000 Kuala Lumpur
www.ipa.com.my
FOCUSING ON
Module 1: The Excel Reference SECRETS

Module 2: The Special tools in Excel

Module 3: Making Data Easy to Understand

Module 4: The Amazing Formula Secrets

Module 5: Getting to know what is "Get and Transform"

Module 6: Generating Quick but a Complex Report

Module 7: Visual Data Presentation using Excel Chart

Module 8: Secure your Excel files

COURSE OVERVIEW
Microsoft Excel is a spreadsheet program that lets you work with numbers. It has become the standard tool for people who need to keep track of their everyday finances or who need to crunch some numbers in order to make decisions.
Did you know there are only a few things you have to know about Microsoft Excel to get started? This course, "The Excel Secrets You WANTED to Know" will show you everything you need to know to get going. It's the perfect course for anyone who needs to know how to use this important tool.
COURSE LEARNING OUTCOMES (CLO)
Distinguish all the different type of Cell References Effectively and Accurately.

Respond and choose the Go to Special and Paste Special to solve complicated Task Quickly.

Present and Design Mini Dashboard using Pivot Table.

Changing & Applying the Number Formatting Dynamically.

Fully Understand the secrets of VLOOKUP and use it like a Pro

Using PowerQuery to Clean Up and Collect Data from Multiple Source.

Presenting Data Visually.

Applying Worksheet and Workbook Level Protection.
WHO SHOULD ATTEND
Executives, Managers, Business Owners, General Public, Individual pursuing Self Improvement
Pre-requisite
METHODOLOGY
Guided Learning, group-paced, hands-on classroom training with real life examples for business applications.

Challenging exercises are set based on practical applications for typical organizational functions such as HR, Admin, Production, Sales etc.
DAY 1
9:00

MODULE 1: THE EXCEL REFERENCE SECRETS

Cell Reference and Name Range

Applying Names in Formulas

Dynamic References

Structured Reference

3D Reference



10.45

MODULE 2: THE SPECIAL TOOLS IN EXCEL

Selection: Go to Special I Blank I Visible

Copy & Paste: Paste Special I Transpose I Operation

Camera Tool: Smile – One Two Three – Snap

Data Entry Form (Non-Coding Form)
2:00

MODULE 3: MAKING DATA EASY TO UNDERSTAND

Explore the Number Formatting

Deep Dive inti Date Formatting

Making Number Value Appear Dynamic

Apply symbols in Number Formatting

Insert Picture evidence in the Excel Comment/note
3:45

MODULE 4: THE AMAZING FORMULA SECRETS

Introducing VLOOKUP and its Accomplice

Why not XLOOKUP?

VLOOKUP and CHOOSE Function is a perfect couple

Search Part of the Value with a HELPER column
DAY 2
9:00

MODULE 5: GETTING TO KNOW WHAT IS "GET AND TRANSFORM"

Cleaning up Messy Data

Collect data from multiple source

Merge data from 2 sets of data



10.45

MODULE 6: GENERATING QUICK BUT A COMPLEX REPORT

Transform a Data List (database) into an easy-to-understand Report

Making Right Click your Buddy in Pivot Table
Analyze the data by Grouping data

Write a Calculated Field in Pivot Table (Formula)

Present the Report Visually with Chart
2:00

MODULE 7: VISUAL DATA PRESENTATION USING EXCEL CHART

Manipulate data to display chart Correctly

Add Visual Information to make Chart easy to read

Apply Cosmetic Change on the Chart to WOW the Audience
3:45

MODULE 8: SECURE YOUR EXCEL FILES

Sheet Protection: No Editing Capability

Partial Sheet Protection: Protect Locked and hidden Cells

File Protection: Only allow access with Password