Learn from the Best

SHEENA CHAHIL is the Executive Director of IMP TRAINING & CONSULTANCY formerly known as Impression Management
Professionals.
A consummate professional, she brings to you years of invaluable experience, offering speaking, training and consulting services to corporate clients, private individuals, professional associations, government agencies, colleges and universities. Her customized approach to personal and professional growth has helped thousands of people make positive changes. As a trainer and consultant, she has developed corporate workshops and individual coaching services designed to provide employees and leaders with the tools and the self confidence they need to master their professional lives.
She is a member of The Institute for Image Management (U.S.A.) and an Associate member of Image Consultants International - AICI. She has a wide range of experience in the image industry and has acquired her training in a number of areas on Image Management from Australia and U.S.A. Her expertise lies in Colour Analysis, Wardrobe Strategies, Visual Poise, Grooming Principles, Business and Social Etiquette, and Malaysian Protocol (Correct Forms of Address).
She takes a professional holistic approach to her training. It's not merely a grooming course but rather an understanding of the principles and reasons for image in the business industry. Therefore it includes "a buy in as well as a change in mindset"
Her extensive exposure in the service industry has also enabled her to train others in areas on Customer Care, Hospitality Image and other Customer Services related workshops. She has acquired her training in Customer Service from the International Air Transport Association - IATA Singapore
Her training programs also focuses on Event and Protocol Management. She acquired her knowledge and training in this area from the Institute of Public Relations Malaysia
(IPRM).

Among her satisfied clients are organizations such as Maybank, Public Investment Bank, BHP Billiton, TNS Worldpanel, Sunway Group, DaimlerChrysler, Maxis Mobile, Celcom, Kuwait Finance House, Telekom Malaysia, British American Tobacco, Intel Singapore, Asia Business Forum Singapore, DRB- Hicom, CIMB Bank, Chevron Malaysia Ltd, Tractors Malaysia, Great Eastern Life Assurance, UMW Toyota, Securities Commission, Western Digital and Petronas Group of Companies.
She is also a popular speaker at seminars and symposiums both in Malaysia and the region and specializes in conducting presentations on topics on Image Building - Creating Winning First Impressions, Professional Image and Corporate Communications. She has been featured on some of the local television programs and local magazines and contributes articles to some of the local magazines.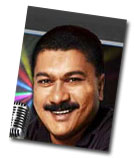 SIMON D'CRUZ a Celebrity Emcee & Voice Over Talent has been in the industry for more than 20 years. He has extensive experience in Master of Ceremonies (Emcee) and Event Management.
Simon has successfully managed a complete range of corporate events in Malaysia from building openings to groundbreaking ceremonies, concerts, corporate events, conferences product launches and more.
He also worked on fundraising events and everything from book signings to website launches to children's fun filled events.
Along the way, Simon has earned some rave reviews and made more than a few special memories for his clients and their guests alike.
Following are just a few of the events, Simon has successfully managed;
CPA Congress 2013

Bursa Malaysia's Inaugural Board Chairman Session

International Academies of Emergency Despatch (IAED 2012) Conference Official opening & Gala Dinner

Obstetricians & Gynecologists Teaching Conference 2011 Opening Ceremony

Italian Business Mission Seminar & Gala Dinner in the presence of The Italian Ambassador to Malaysia & the Deputy Minister of Trade (Italy).

RHB Bank (Corporate Banking) Appreciation Dinner 2012

Yamaha Motors 3,000,000 roll-out ceremony 2012 in the presence of Datuk Donald Lim Deputy Finance Minister Malaysia.

Malaysian Int'l Chamber of Commerce and Industry (Johor) 175th Anniversary Dinner 2012

Naza TTDI property Carnival 2012

Alam Impian Naza TTDI Property Launch 2012

Health, Safety & Security Week 2011 Launch for Standard Chartered Bank @ Menara Standard Chartered, K.L.