Building Interactive Reports & Dashboard using Microsoft Excel
26-27 May, 2022, Remote Online Training - Public
IPA Training is Registered with

Learn from the Best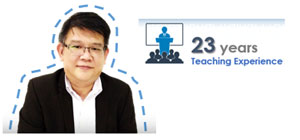 Kelvin Ng Choo Kent is a highly experienced digital arts instructor and master trainer with more than 17 years of experience in the Office Automation Consultation, Graphic Design, Animation and Print Production arena. He is a graduate of Malaysian Institute of Art (MIA) and holds the distinction of being certified as Adobe Certified Expert (ACE), Microsoft Office 2016 Master Specialist MCP & MCT, Certified Practitioner of Neuro-Semantics, Certified Practitioner of Neuro-Linguistic Programming & Certified Practitioner of Hypnosis & Time-Lines.

Venue Details
Remote Online Training - Public


Contact us
ADDRESS 
A-28-5, 28th Floor, Menara UOA Bangsar, 
No.5, Jalan Bangsar Utama 1, 
59000 Kuala Lumpur
www.ipa.com.my
FOCUSING ON
Introduction to Excel Dashboard & Requirements

Explore Data & Formatting in Microsoft Excel

Building Interactive Report with Formula (Part 1 & Part 2)

Building Advanced Chart (Part 1 & Part 2)

Building Interactive Report and Chart (Part 1 & Part 2)
COURSE OBJECTIVES
Excel Dashboard is a page that allows managers and business leaders to track key KPIs or indicators and to decide appropriately. It includes diagrams / tables / views supported by facts. Nevertheless, not all reports are dashboards. Dashboard reports provide administrators with a high-level company summary. Excel is an excellent tool for producing powerful dashboards which allow managers to evaluate, inspect and alert on time.
AFTER ATTENDING THIS COURSE YOU WILL RETURN TO YOUR JOB…
Understanding the Dashboard and its specifications.

Using data and formatting to present data accurately so that the report is easily understood.

Showing the advanced formula to make the report interactive.

Creating sophisticated chart such as Speedometer chart & Thermometer Chart.
WHO SHOULD ATTEND
Personnel who use Microsoft Excel to analyse and prepare management reports, especially Administrative, Operational and Middle Management Staff.

COURSE REQUIREMENTS
Participants should be able to use a PC at the beginner level

Basic knowledge and functionality of Microsoft Excel

Microsoft Office 2013 and above

METHODOLOGY
Guided Learning, group-paced, hands-on classroom training with real life examples for business applications.

Challenging exercises are set based on practical applications for typical organizational functions such as HR, Admin, Production, Sales etc.
DAY 1
9:00

About DASHBOARD

Get to know a PivotTable

Introduction to Dashboard

Visual interface - at-a- glance

Consists of 3 key attributes
Excel Dashboards

Magazine-Quality Reporting

Flexibility

Analytical Power

Error Handling

What Makes A Good Dashboard?

Proper Visualizations

Themes

Tables

Charts

What do you need?

Data

Strong Knowledge

Final Question

10.45

Understanding Data & Format

What is Data Type?

How does Data Type affect our formulas or calculations?

Number Formatting

Excel Date Format

Excel Number Custom Format

Enhance Reports with Conditional Formatting
2:00

Understanding Data & Format (cont.)

Using Excel's Camera Tool

Where Is the CAMERA TOOL?

Use Camera Tool as easy as 1,2 3… Smiles
About Functions

About Excel References

Use Name Range as Absolute Reference

Indirect Function

Offset Function
3:45

About Functions (cont.)

VLOOKUP Functions

Database Function

SUMIFS

SUMPRODUCT Function
DAY 2
9:00

Presenting Data using CHART

Select Data

Chart Elements

Type of Charts

Cluster Column Charts
Bar Chart

10.45

Presenting Data using CHART (cont.)

Thermometer Chart

Pie Chart

Speedometer Chart (Background)

Speedometer Chart (Needle)
2:00

Building Dashboard

Building Dashboard with Formula & Formatting

Visualizing Dashboard using Chart